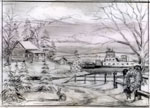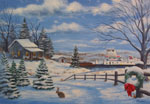 Illustrations
by Michael Summers
Over the years I have had the opportunity to complete hundreds
of illustrations with mediums as varied as pencil, watercolor,
mixed media and oils to more recently a fusion of traditional and
digital imagery.  Although I enjoy pushing paint around on a canvas,
I do understand the power of the computer. 

The client list has varied as well, from Tennessee entities such as
The Grand Ole Opry, Jack Daniels, Ingram Barge Company and
O'Charley's Restaurants to companies like Coca-Cola and Bellsouth.
Many of these opportunities have arisen through working
relationships with a number of local advertising agencies and
design firms.