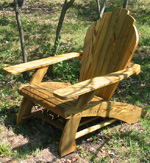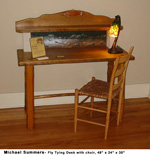 Hand Crafted Furniture
by Michael Summers
My gravitation toward the art & craft of furnituremaking is a result
of having renovated several homes over the years and finding myself
enjoying the nature of working with wood and wanting to develop those
skills further.  To that end, through a good friend I discovered the
Appalachian Center for Crafts and have participated in workshops
there for the last few years.  This afforded me the opportunity to work
with professional craft persons like Tim Hintz, a middle Tennessee
chairmaker, David Wright, a Kentucky Windsor chairmaker, and
Kimberly Winkle, a woodturner and artist.  All exceptionally talented
people willing to share their experience and expertise.
The pieces shown here are a varied example of my work thus far.
A number of them are for sale and if you have any questions about
a particular piece or would like to inquire as to the possibility of a
commissioned piece please don't hesitate to contact me.